This information was  shared with us today and is a good list of things to help out in actions you may need to take.
How to prepare for income loss during COVID
Contact your mortgage lender or bank and request a 90-day deferment or interest only payment for all mortgages and/or loans.

Contact your auto loan and request a deferment on monthly payment.

Contact your landlord and request rent to be waived for 30/60/90 days and added to the end of lease or waived rent can be divided and added to remaining payments at end of waiver period. 

Contact credit card company request debt or monthly payment relief

Contact internet, cable, cell or any other service and request service be moved to basic. 

Contact any monthly payment provider. The majority are offering assistance during this period.
Will I lose power, water and other essential services if I am unable to pay my bills?
All four major electric utilities in Moore County have waived late fees and suspended disconnections for non-payment. This applies to customers of Duke Energy, Randolph EMC, Central Electric Cooperation and Pee Dee Electric. 

Residents who receive water through Moore County Public Works will not lose service if they are unable to pay their bill. Some municipalities including Southern Pines, Carthage and Robbins have also suspended water shutoffs.

Spectrum has announced it will not charge late penalties or terminate internet, phone or television service for customers facing "difficult economic circumstances related to the COVID-19 pandemic." AT&T is dropping late fees and halting disconnection of wireless, home phone and broadband services for the next two months.

Verizon customers experiencing financial hardship because of the coronavirus can avoid disconnection and late fees until May 13 by filling out 

this form

 on the company's website. T-Mobile is advising affected customers to make payment arrangements online.
What if I am unable to pay rent?
The United Way of Moore County is providing its partner agencies with emergency crisis grants to assist residents with housing, food and utilities.

Individuals in need of assistance can connect with the appropriate agency by calling 211, the United Way's hotline in North Carolina. 

After answering the automated prompt to proceed in English or Spanish, press 1 to access the coronavirus menu, then press 3 for information about available resources. Following a lengthy prerecorded message about the state's response to COVID-19, you'll be transferred to an operator. Simply say you need assistance with rent or housing because of the coronavirus.
How can I feed my children? 
Parents of children 18 and younger who rely on school-provided meals can pick up free lunch and next-day breakfast from Monday to Friday at 16 distribution sites in Moore County listed on separate page.
 

Aberdeen Area (Meals accounted for by Southern Middle site):
Pinebluff Lake Road Area (Countryside Drive) 11-11:30 a.m.
Heflin Trailer Court (Bell Fork Road) 11:45 a.m.-12:15 p.m.
250 Meadowfield Road, 12:30-1 p.m.
Southern Pines Area (Meals accounted for by Southern Middle site):
Brookside Community (Near the Entrance Gate) 11-:11:30 a.m.
Longleaf Community (801 S. Mechanic St. ) 11:40 a.m.-12:10 p.m.
Vass/Cameron Area (Meals accounted for by Crain's Creek Middle site):
Hidden Lakes Community (Corner of Evans Drive and Lakeview Drive) 11-11:30 a.m.
Carolina Lakes Community (Entrance of the Community) 12-12:30 p.m.
Northern Moore Area (Meals accounted for by Elise Middle site):
Forest Heights/Elizabeth Lane/Milliken Park/Salisbury Street
Lindale Street/Virginia Avenue
Sunset Drive/Sunset Trailer Park
Zions Grove
Pondview Drive/Mount Carmel Area
North Moore High School will communicate times to these areas.
In addition to the new distribution sites, food distribution will continue at the following sites from 11 a.m. to 1 p.m. at Southern Middle, Crain's Creek Middle, Elise Middle and the Boys & Girls Club in Southern Pines.
---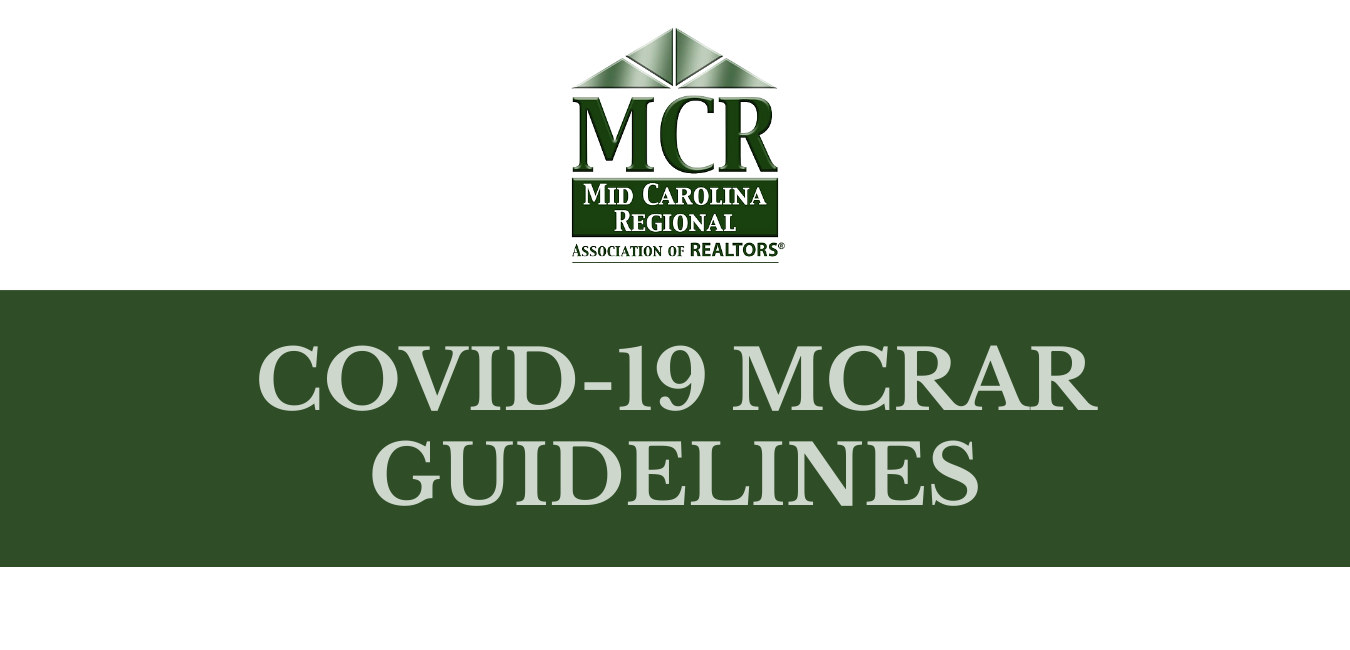 Official Practices and Guidelines for Real Estate Professionals under COVID-19 Stay at Home Ordinance in Moore and Richmond Counties.
Governor Roy Cooper issued Executive Order 121 which implements a statewide "shelter in place" directive, effective Monday, March 30 at 5:00 PM. This order will remain in effect for thirty (30) days unless otherwise repealed. While this is a significant measure, it is a vital step in the effort to assist in controlling the spread of COVID-19. The full list of measures implemented in Executive Order 121 are found here.
MCRAR leadership has advocated that safe and healthy real estate business is essential to our community. We want to provide our members the following guidelines for maintaining safety throughout the REALTOR® community while also supporting homeowners and those requiring shelter.
The real estate industry has been deemed essential within this order, as described as "Professional real estate services, such as brokerage, appraisers, title services."
With the technology available today, we are confident REALTORS® can, and will, seek to provide essential real estate services, including the active marketing of properties, through virtual practices. 
It is recommended that members of the real estate industry refrain from face-to-face real estate practices, unless deemed absolutely essential, until the Stay at Home Orders are officially lifted.
Under local Stay at Home Orders, it is recommended to follow these safe practices: 
Property inspections

necessary for the closing of transactions will remain allowed, however, REALTORS® are asked to exercise and advise all involved to use caution and regard for social distancing guidelines in any face-to-face interactions that are necessary in the completion of the inspection. The home inspector could be let into the property by the seller, listing agent, or buyer's agent while practicing distancing of 6 ft. or more. Consultation after the inspection should be done by phone or online to avoid any physical contact. 

Property appraisals

necessary for the closing of transactions, purchase, refinance, etc., will be allowed, however, like inspections, we are urging extreme caution and regard for social distancing guidelines be exercised in any face-to-face interactions that are necessary in the completion of the inspection. It is recommended that when possible, the home appraiser enter the property alone.

Many attorneys have established new guidelines for closings including limiting attendance at those appointments to only the buyer and closing representative. Please contact your attorney for updates on their policies.

Virtual final walk throughs with your clients are also encouraged at this time.  

All showings should make an attempt for virtual walk throughs. This could include a REALTOR® walking through a property while on a video call with their client. At this time in-person property viewing is deemed unsafe. Listing Brokers may decide to provide such safety and health features as hand sanitizer stations, gloves and booties to cover shoes. Listing agents and Brokers should instruct their sellers to turn on all lights and open all closet/cabinet doors to keep touching to a minimum. Buyer agents should leave the house as it was found and wipe down all doorknobs, light switches etc., with a disinfectant wipe if contact is necessary. Showing Time recently announced that the overlapping of showings is prohibited in their system for the time being to stop agents and clients from running into one another. We highly recommend that Brokers and agents have a plan in place making sure to be aware of any risks in conducting showings and make those decisions internally as a company. 

An optional COVID-19/Coronavirus Addendum is now available from NC REALTORS®. This form can be used as an addendum for delays resulting from the COVID-19 pandemic and can be found on the NC Realtors 

site forms center

.

LISTING PROPERTIES:

 

A reminder, if the sellers do not want to keep their property active during this Stay at Home period members have options : 

The listing can be Withdrawn. The listing will still expire on the expiration date entered. 

The sellers can have showings blocked off in showing time for a specific time frame.

MCRMLS has it possible for Listing Agents, and their Sellers, to keep their homes visible to potential buyers by allowing listings to remain active, even when showings are blocked past 48-hours. This change will not pause the DOM, but it will keep listings active on IDX sites, Realtor.com, and all sites getting their feed through List Hub. 

To be respectful during this time and continue to hold support from local and county governments, REALTORS® should be mindful in conducting any face-to-face marketing and try and refrain from cold-calling and other forms of unsolicited marketing throughout this State of Emergency.  

Property management and repair work, which generally involves maintaining sanitary and safety conditions is permissible. 

Physical offices should follow any mandates of the Stay at Home Order. It is recommended that offices that choose to remain open limit any on-site staff to only those necessary for essential daily operation and prohibit public visitors. Again, we encourage companies to make these decisions internally with their staff. 
---
Finally, MCRAR urges all members to make sure they are receiving and reading factual and up to date information as much as possible. Visit the CDC's website and the North Carolina Department of Health websites for the latest updates about the virus. 
Additional information about the impact of Coronavirus on the real estate industry can be found on the National Association of REALTORS'® website. MCRAR and MCRMLS are urging everyone to do their part in the real estate arena to help slow the spread of this illness. 
MCRAR will update this guide as additional information becomes available in the coming days. MCRAR is offering the guidance above in consultation with the various county governments and state agencies throughout our service territory. We also urge all members to consult with their BIC's and attorneys as they navigate this ever-evolving situation.
Members should understand that the COVID-19 emergency and the State of North Carolina's response to the emergency is rapidly evolving.
Although we will do our best to keep you informed, ultimately each individual is responsible for knowing any changes regarding local, municipal or county rules and updating your clients accordingly
---